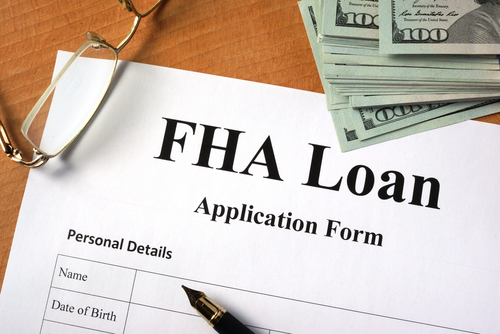 FHA home loans (which are insured by the Federal Housing Administration) are marketed as one of the best loan products for first-time homebuyers. Because these loans only require a low down payment of 3.5%, qualifying for an FHA home loan means you can purchase a property with less money out-of-pocket. These loans also allow a credit score as low as 500 to 580.
But while these mortgages are attractive, they aren't perfect. Before you apply for an FHA mortgage, here's what you should know about this program.
1. Upfront mortgage insurance premium
You're probably aware that some mortgage programs require borrowers to pay mortgage insurance if they don't have at least a 20% down payment. Mortgage insurance protects the bank in case of default. What you may not realize, however, is that when you apply for an FHA home loan, you're required to pay an upfront mortgage insurance premium. This extra premium increases your total loan balance. As of 2016, the upfront mortgage insurance premium is 1.75% of the loan balance. You don't pay this premium out-of-pocket at closing, rather your lender includes the fee in your mortgage loan.
2. Permanent mortgage insurance
While we're on the subject of mortgage insurance, another problem with FHA home loans is that annual mortgage insurance is permanent and required for the life of the loan—unlike a conventional loan which cancels private mortgage insurance once the property has 22% equity.
In the past, annual mortgage insurance with an FHA home loan worked the same, with lenders canceling the insurance once a buyer built enough equity. This is no longer the case. If you purchase a house using an FHA home loan and you don't have a 20% down payment, you'll pay  mortgage insurance every month until you pay off the loan. The good news is that you can refinance to a conventional loan in the future and get rid of mortgage insurance, which could also reduce your home loan payment.
3. It's harder to purchase a condo
FHA home loans can also be problematic if you're looking to purchase a condominium. Condominiums are excellent properties if you want a home that doesn't require a lot of outdoor maintenance. But unfortunately, the Federal Housing Administration will only allow a loan for a condominium if more than half of the units in the building or community are owner-occupied. Additionally, the unit you purchase must be at least 400 square feet.
4. Properties have to meet certain requirements
To get an FHA loan for a home purchase, the property must meet certain requirements and be in good condition. If you're interested in an FHA loan because you want to buy a fixer-upper or a foreclosure, you may have problems qualifying for a standard FHA home loan if the home is in poor condition and needs a lot of work. Luckily, it's not impossible to get FHA financing in this situation.
There is an FHA home loan program that allows buyers to finance the purchase price of a home and the cost of improvements with the same loan. If you're thinking of buying a fixer-upper, ask your mortgage loan officer about an FHA 203K rehab loan. These loans cover bathroom and kitchen renovations, patios and decks, plumbing, flooring, new siding, HVAC systems, etc.