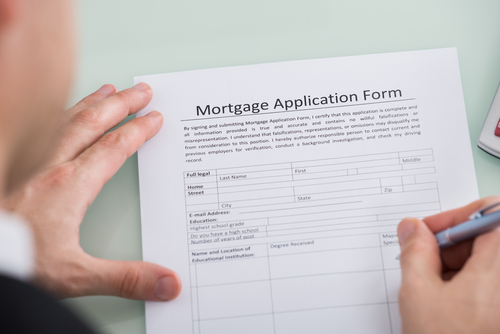 Despite the fact that countless people apply for mortgages every year, the process can be overwhelming and scary. This is a major life decision, so it is normal to have questions. Some first-time homebuyers don't know where to begin. However, starting the application process for a mortgage is easier than you think.
Here are four simple tips for beginning your application for a new mortgage.
1. Visit different lender websites
You don't have to get a mortgage from the bank that provides your checking and savings accounts. Visit different mortgage or bank websites to explore their products. Read loan descriptions to see which programs you're eligible for, and to learn about down payment requirements, minimum credit score requirements and limitations. This is an excellent starting point for becoming familiar with a multitude of home loan options. Once you meet with a lender, you'll have a better idea of mortgage programs that could work for you.
2. Gather your paperwork
Don't complete a mortgage application for the sake of completing one. Only start the  application process once you are ready to move forward with a home purchase. Before you start your application, make sure you have your paperwork together. This ensures a smoother process.
Required paperwork for a mortgage includes two years of tax returns, two months of bank statements and 30 days of paycheck stubs. If you have a short sale, foreclosure or bankruptcy in your past, make sure you're eligible to apply for a mortgage. Typically, you have to wait at least 24 months after a bankruptcy discharge, short sale or foreclosure to apply for a home loan.
3. Fill out an online pre-qualification form
After choosing a mortgage program, you can begin the process by completing an online pre-qualification form. This is a preliminary step and an excellent way to learn whether you meet basic qualifications for a home loan. You'll state your desired home loan amount and your income on the form. The bank conducts a brief credit check, and based on this information, determines whether you pre-qualify for a home loan. A pre-qualification means there's a good chance that you're eligible, but there are no guarantees until you complete a formal application.
4. Complete a formal application
After you're pre-qualified, the lender(s) you speak with can provide a Loan Estimate that explains the terms you can expect to receive. This includes your qualifying amount, interest rate, estimated closing costs and estimated monthly payment. This form also estimates the cash you'll need to close.
The Loan Estimate is designed to remove any guesswork so you know exactly what you're getting into. You can get a Loan Estimate from multiple lenders to compare home loans. Once you make side-by-side comparisons, notify the chosen lender of your intent to proceed with the home, and then complete an official mortgage application.
The information in the Loan Estimate can change before closing. This is because interest rates fluctuate on a day-to-day basis, so the rate you're initially quoted might be higher or lower by the time you're ready to close.
It takes about 30 to 45 days to complete the mortgage process. Three days before your scheduled closing date, you'll receive a mortgage Closing Disclosure form which explains your final loan terms. Compare the Closing Disclosure with your original Loan Estimate and contact your lender if you have any questions.