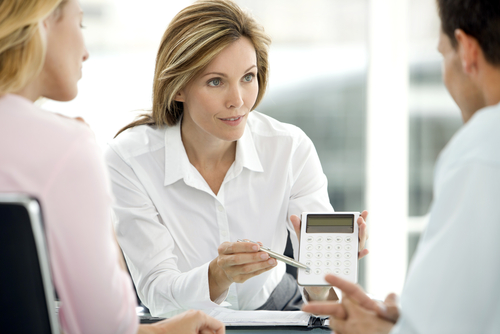 Some homebuyers focus their energy on finding a house within a specific price range. But while getting a fair price for a property is important, it's also advantageous to secure a low-rate, affordable mortgage loan.
Mortgage interest rates vary from lender to lender. This is why it's crucial to shop around and compare home loans offered by different lenders. These lenders include big banks, community banks, credit unions and online lenders. After completing a pre-qualification form, these financial institutions can evaluate whether you're eligible for a home loan, and provide a rough estimate of what you can expect to pay with regard to interest and fees.
Interest affects how much you pay on a monthly basis and over the life of the mortgage. Mortgage fees, or closing costs, include the lender's loan origination fee, credit application fee, appraisal fee, attorney fees, etc.
Purchasing a home is a major investment, and sad to say, mortgage-related costs can drain your savings. Comparison shopping, on the other hand, can help you procure a low-rate mortgage, plus save on lender fees.
Every time you contact a lender to request a rate quote, the bank will pull your credit report. You might already be aware that too many inquiries can hurt your credit score. Typically, each inquiry reduces credit scores by a few points. The number of points lost per inquiry varies depending on the type of pull. What's more, an inquiry can remain on your credit report for up to two years.
This knowledge stops some homebuyers from requesting multiple mortgage quotes. You shouldn't let your fear of inquires prevent comparison shopping. If you never compare loan offers, there's no guarantee that you'll find the most favorable rate or the lowest fees.
The good news is that shopping for a mortgage doesn't have to damage your credit score. But to avoid credit damage, you have to compare mortgages the correct way.
While checking your own credit doesn't hurt your credit score, it's a different story when a lender checks your credit. Each credit pull can lower your score by as little as two points, or as much as five points. So it's important to only apply for credit when necessary.
Many financial experts recommend rate shopping when applying for a mortgage. If you fear hurting your credit score—don't. You can successfully shop for a mortgage loan without damaging your credit score. This is because credit scoring systems are designed to recognize actions that are characteristic of rate shopping. Furthermore, FICO scoring models don't penalize consumers for being smart borrowers. The secret, however, is requesting multiple quotes within a specific window of time.
In the case of comparison shopping for a mortgage, similar inquiries that occur within a 45-day period are counted as a single inquiry for scoring purposes. A mortgage pull can take five points off your score. So if you apply with 10 mortgage lenders within a 45-day window, rather than lose 50 credit score points, you only lose five points.
Understand that this provision typically only applies to mortgages and auto loans. So while you wouldn't want to apply for too many credit cards in a short span of time, you can apply for as many mortgages as you like within a six-week period.