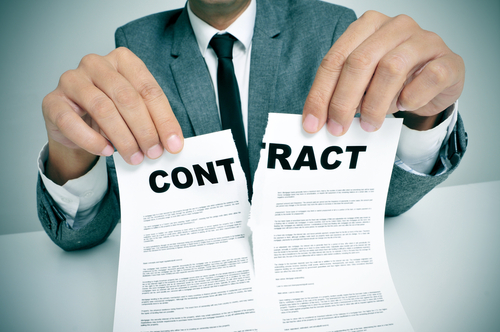 Most of us have experienced buyer's remorse. Fortunately, when you purchase an item from a store, you can change your mind and return the item within 30 to 90 days for a refund or exchange. You might not associate a return policy with a mortgage, but if you refinance a home loan, you may have the right of rescission, which means you can cancel the loan after signing the documents.
What is the Purpose of a Mortgage Refinance
Mortgage refinancing is a common real estate transaction and involves applying for a new mortgage to replace an old mortgage. You can refinance to take advantage of a lower interest rate, convert an adjustable-rate mortgage to a fixed-rate, or you can refinance and remove someone's name from a mortgage loan. Whatever the reason, you'll need to complete a new home loan application and wait until the lender reviews your income, credit and supporting documentation.
The Right of Rescission
It can take up to 30 to 45 days to close on a mortgage refinance, and during this time, you can cancel the loan at anytime. However, the right to change your mind doesn't end upon signing the closing documents.
When you refinance a mortgage loan, you have three days to rescind, at which point the lender must cancel the mortgage transaction and refund any lender fees you've paid. This includes the credit report fee, the title search fee and loan origination fees. The right of rescission begins at midnight the day after you sign the mortgage paperwork, and ends at midnight on the third business day.
As a borrower, you can rescind if you're not happy with the loan. Maybe you felt pressured by your mortgage lender to proceed with a refinance, or you might second-guess the mortgage terms. Whatever the reason, you can get out of the refinancing without penalty.
What You Should Know About Rescissions?
If you decide to rescind your mortgage, notify your lender in writing within the three-day period. It's important to note that while the right of rescission applies to mortgage refinances, it doesn't apply to new purchase transactions. If you're buying a property, by the time you get to the closing table the seller has likely already found another place to live, moved out of his old home and secured a new mortgage. Therefore, you need to make sure you understand and agree to your mortgage terms before signing the paperwork for a new purchase.
There are other situations when the right of rescission doesn't apply. This right is only for owner-occupied homes. So you can't exercise this right when buying or refinancing a vacation home or an investment property. The right to cancel also doesn't apply when refinancing a mortgage with your original lender. The only exception is if you're getting a cash-out refinance, which involves borrowing cash from your equity and getting a lump sum at closing. In this case, the cash-out portion is eligible for rescission.